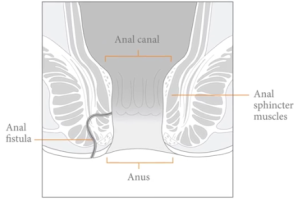 Treatment of anal fistulas depends on their location and complexity. When considering surgery, the ultimate goal is to protect the sphincter muscle and prevent recurrence of an anal fistula. The LIFT (ligation of intersphincteric fistula tract) technique is yet another approach in treating a fistula-in-ano.
At the Fissure & Fistula Center of Excellence, we provide a variety of surgical options in treating anal fistulas. Contact us today at (888) 512-2312 to find out your options.
Please click here to learn more about the LIFT technique.
The Technique
LIFT procedure is based on secure closure of the internal opening and removal of infected cryptoglandular tissue through the intersphincteric approach. The LIFT technique is often performed for complex or deep fistulas. The procedure allows our surgeons to access the fistula between the sphincter muscles and avoid cutting them.
The LIFT technique begins by making an incision in the opening of the fistula in the anal canal to determine where it is in the intersphincteric tract, the area between the sphincter muscles. Another opening is made through the external opening of the fistula on the buttocks, in which a tube is inserted through the external opening to identify the tract and to clean the area out. Infected tissue, called cryptoglandular tissue, is removed. The openings are then sealed to prevent further infection and re-occurrence of a fistula.
The procedure can also be performed in two-parts in which a seton is first placed into the fistula tract, forcing it to widen over time. Several weeks later, the surgeon removes infected tissue and closes the internal fistula opening. Ultimately, the mid-portion of the fistula is surgically isolated and stitched closed, allowing the internal and external openings to collapse and heal.
Preparing for the LIFT Procedure
In preparation for surgery, your doctor will give you pre-operative instructions that are important to adhere to in order to experience optimal results. Your instructions might include:
Not smoking beforehand
Administering an enema to clean out the rectum
Fasting for at least six hours before surgery
These are just a few things your doctor may request, but your surgeon will consult with you and provide the corresponding surgery prep instructions based on your individual case.
Why Choose Our Colorectal Surgeons?
The surgeons at the Fissure & Fistula Center of Excellence are some of the country's best colorectal surgeons. Our surgeons have extensive training at some of the top medical schools across the nation and have served as department heads at major hospitals. Most importantly, our Los Angeles/Beverly Hills based surgeons regularly perform anal fistula repair surgery and have successfully treated hundreds of patients.
To make an appointment with a doctor from the Fissure & Fistula Center of Excellence in Los Angeles, please contact us today at (888) 512-2312.
Next, read about the endorectal advancement flap.