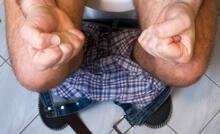 Anal Fissures can be very unpleasant. Tears in the tissue along the anal wall can cause a great deal of pain and lead to bleeding. Sometimes prevention is the best way to combat this condition. That's why following these simple steps is so important.
Fiber, Fiber, Fiber
One of the leading causes of anal fissures is passing large, hard, or dry stools. Constipation or strain can also lead to more than you bargained for. A good way to prevent both constipation is to get plenty of fiber. Your daily goal should be 20-35 grams.
Need to get more fiber? Try some of these foods:
Whole grains, including oatmeal, popcorn, brown, rice, and certain breads
Peas and beans
Seeds and nuts
Fruits and vegetables
Oat and wheat bran
If you still aren't meeting your fiber goals, you can also try fiber supplements.
Exercise
Constipation can actually be caused by low activity or dormancy, so keeping a regular workout schedule can help prevent fissures. Cardio, weight training, playing sports, or just walking can all help you reach your goal. Plus, you'll be getting into better shape, which has a wide range of supplementary benefits.
Don't Hold It In
You can't choose when nature calls. But when it does, it's important that you pay attention. When we hold it in, the stool compacts, making it larger and more difficult to pass. Over time, regularly holding your bowel movements can weaken the surrounding muscles and reduce your ability to recognize when it's time to go. Remember, when you got to go, you got to go.
Hydrate
One of the leading causes of constipation is dehydration. Plus, if you've increased your fiber intake but haven't been getting an adequate water supply, you can experience cramping and gas. Not all liquids work. Alcohol and caffeine can actually worsen dehydration, so it is important to stick to water.
Keep Your Anus Healthy
Following these simple rules every day can improve your overall bowel health and prevent constipation. Take your time on the toilet, but don't sit too long. Make sure to clean your anus after every bowel movement, and when you do, remember to use dry, scent free, dye free toilet paper. Don't strain too much when passing a stool, and be sure to always keep your anus dry.
Contact an Anal Fissure Doctor
The simple steps listed above can give you an edge in the fight against fissures. But if you're experiencing any of these symptoms or if you're interested in anal fissure repair surgery, contact our office in Beverly Hills today. Call us at 888-512-2312 or fill out our online contact form.
Next, learn more about the best Anal Fissure treatments.